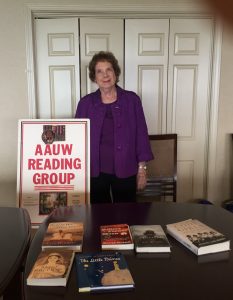 AAUW MORNING BOOK GROUP  2018-2019
"Reading books doesn't make you smarter.  Reading smart books makes you smarter.  Reading dumb books makes you dumber."– Oliver Makus Mallow
The group meets the first Friday of the month at 10:00 for refreshments followed by the book discussion at10:30 at the Homewood Library.
ATTENTION

> Please enter by the back door and go down to the lower level (by elevator). Turn left and go to room

101

. This is a change–previous meetings have been in Room 110.
Contact Aggie Pollock (205/981-1232) or Bobbie Piper (205/967-0334) for further details or questions.
Sept. 7  "A Gentleman in Moscow" by Amor Towles  (Bobbie Piper)
Oct. 5  "Code Girls" by Lisa Mundy (Joe DeGraw
Nov. 2  "Before We Were Yours"  by Lisa Wingate  (  Sharon Bounds)
Dec. 7 "Mr. Dickens and Miss Carol"  by Samantha Silva ( Aggie Pollock)
Jan.  4  "The Little Prince"  by Antoine de Saint-Exupery
Feb.  1  "  Killers of the Flower Moon"  by David Grann  ( Cathy Taylor)
Mar. 1 "The Wind in my Hair:  My Fight for Freedom in Modern Iran"
             by Masih Alinejad
Apr.  5  "Romeo and Juliet " by William Shakespeare ( Barbara Patterson)
Apr.6 Trip to the Shakespeare Festival in Montgomery to see "Romeo and Juliet"
May 3  "Dispatches from Pluto" by Richard Grant (Pam Cooper)
June7  "Educated" by Tara Westover  ( Pat Fitzsimmons)
July 5 " The Last Paintings of Sara de Vos by Dominic Smith  ( Claire Datnow)
Aug. 2  "Marriage of Opposites" by Alice Hoffman ( Jeanette Willert)