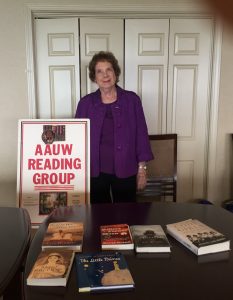 AAUW MORNING BOOK GROUP  2020-2021
"From the reading of 'good books' there comes a richness of life that can be obtained in no other way." Gordon B. Hinkley
Due to the Covid-19 precautions, we will be meeting at 10:00 via Zoom until further notice.  Details will be sent through email before each meeting.  Dates and discussion leaders have not been finalized yet.
Oct. 2  "Eleanor Oliphant is Perfectly Fine" by Gail Honeyman  ( Nancy Grove to lead)
Nov.  "Beneath the Scarlet Sky" by Mark Sullivan
Dec.  "Well-behaved Women Seldom Make History" by Laurel Ulrich
Contact Aggie Pollock (205/981-1232) or Bobbie Piper (205/967-0334) for further details or questions.