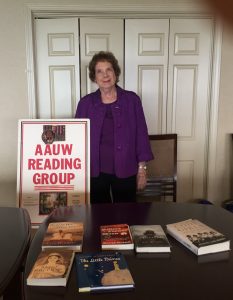 AAUW MORNING BOOK GROUP  2020-2021
"From the reading of 'good books' there comes a richness of life that can be obtained in no other way." Gordon B. Hinkley
Due to the Covid-19 precautions, we will be meeting at 10:00 via Zoom until further notice.  Meetings will occur on the first Friday of the month.  Details will be sent through email before each meeting. Contact Eleanor Wright for help signing into Zoom. Her number is 205-200-7955.
Oct. 2  "Eleanor Oliphant is Perfectly Fine" by Gail Honeyman  ( Nancy Grove to lead)
Nov.  "Beneath the Scarlet Sky" by Mark Sullivan
Dec.  "Well-behaved Women Seldom Make History" by Laurel Ulrich
January 8, 2021 "The Last Girls" by Lee Smith , reviewed by Nancy Whitt
Feb. 5 "The Dutch House" by Ann Patchett  , reviewed by Alice Lizee
Mar.  5 " Lady Clementine" by Marie Benedict, reviewed by Sharon Bounds
April 2 " The Atomic Weight of Love" by Elizabeth Church, reviewed by Lynn Stafford
May 7  " America's First Daughter " by Stephanie Dray and Laura Kamoie
June 4 " The Giver of Stars" by Jojo Moyes, reviewed by Cathy Taylor
July 2 " The Optomist's Daughter "  by Eudora Welty, reviewed by Aggie Pollack
Contact Aggie Pollock (205/981-1232) or Bobbie Piper (205/967-0334) for further details or questions.