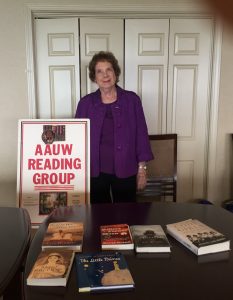 AAUW MORNING BOOK GROUP  2019-2020
"From the reading of 'good books' there comes a richness of life that can be obtained in no other way." Gordon B. Hinkley
The group meets the first Friday of the month at Homewood Library at10:00. Refreshments precede the book discussion at10:30 .  We typically end at noon.
ATTENTION
> Please enter by the back door and go down to the lower level (by elevator). Turn left and go to room 110.
Contact Aggie Pollock (205/981-1232) or Bobbie Piper (205/967-0334) for further details or questions.
Sept.6 " Snowflower and the Secret Fan" by Lisa See ( Nancy Grove)
Oct.4 "The Big Burn" by Timothy Egan (Claire Datnow)
Nov.1 " Where the Crawdads Sing"  by Delia Owens  (  Sharon Bounds)
Dec.6 " The Weight of Ink"   by Rachel Kadish (Alice Lizee)
Jan.3 "Shakespeare Saved My Life"  by Laura Bates ( Marla Hirschy)
Feb.7 " The Only Woman in the Room"  by Marie Benedict  (Lyn Stafford)
Mar.6 " Sweet By and By" by Todd Johnson (Susan Barrow)
Apr.3  "Comedy of Errors " by William Shakespeare ( Barbara Patterson)
          (The Shakespeare Festival Theatre will be performing this play in April in Montgomery.)
May 1 "A Well- Behaved Woman" by Laurel Ulrich (Pat Fitsimmons)
June 5 "1984" by George Orwell  (Aggie Pollock)
July 3 " Beneath the Scarlet Sky " by Mark Sulliman (Joe DeGraw)
Aug.7 "The Last Girls" by Lee Smith ( Eljee Bentley)